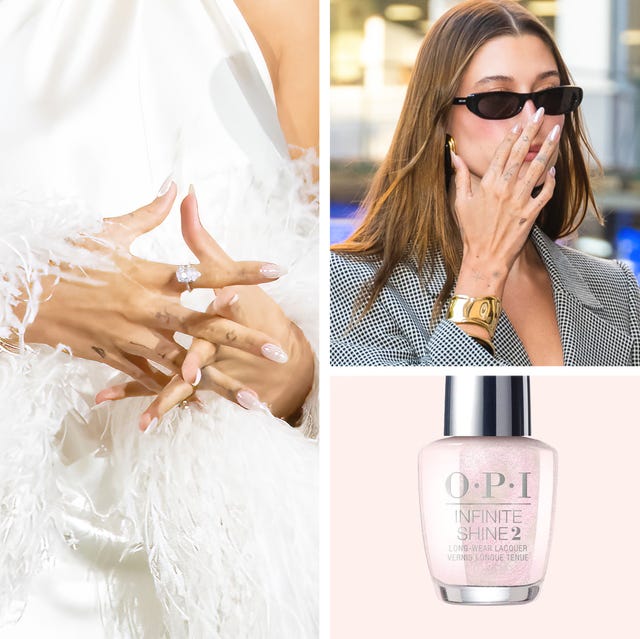 Getty / Design Leah Romero
Unless you've been living inside a nail dryer, you've seen Hailey Bieber's glazed donut nail trend on TikTok, Reels, or maybe even your local nail salon. Search "#HaileyBieberNails" on TikTok, and you're instantly inundated with over 78 million views showcasing the model's various trendsetting manicures. Mellow Bar in New York City has even added the "Hailey Bieber Manicure" to its service menu. Color Camp, an L.A.-based nail brand that sells custom press-ons, released its very own Bieber-inspired set.
So what is the Hailey Bieber glazed donut nail, you ask? It's a pearly iridescent mani, achieved by applying a light neutral gel base coat and topping with a chrome powder. The result: the shade of a perfectly delicious glazed donut. Bieber's nail artist Zola Ganzorigt, who's also worked with the likes of Kendall Jenner, Sydney Sweeney, and Precious Lee, shared all the tips and tricks for achieving pastry-perfect nails. Ganzorigt also shared a few more iconic donut-esque looks from the reigning nail queen, like her classic red or the newest chocolate brown, so you can achieve all glazed everything from the comfort of your own home.
Advertisement – Continue Reading Below
The Original Glazed Donut Nail
Ganzorigt created the iconic glazed donut nail look for Bieber to sport at the Met Gala. She notes, "It was so unplanned and came out so pretty that it went viral." It's gained major popularity because it is so simple and flattering on all nail shapes and lengths. "It was different than your usual chrome nails since the base color is so see-through and natural," adds Ganzorigt.
All it requires is a thin layer of a neutral shade, like OPI's Funny Bunny polish, topped with chrome powder for the shiny effect. Ganzorigt's personal fave is the OPI Tin Man Can Chrome Effects Mirror-Shine Nail Powder. Finish the look with a shiny top coat and a gel curing, and you're good to go. If you're headed to the salon, Ganzorigt recommends asking your nail tech for the glazed donut look or showing a picture of the chrome mani. She also posts a breakdown of each nail look on her Instagram page, if you're looking for specifics!
However, if you're not going to the nail salon or don't have a gel UV light at home, try out these user-friendly products so you can dive into the glazed donut trend right now.
OPI
Infinite Shine Long-Wear Nail Polish in Throw Me a Kiss
Nails.Inc
World's Your Oyster Babe Iridescent Nail Polish
Color Camp
Glazed Donut Press-Ons
Deborah Lippmann
Can't Hold Us Down, Gel Lab Pro Nail Polish
ella+mila
Cup O'Latte Nail Polish
CND
Vinylux Longwear Brown Nail Polish
Deborah Lippmann
Hard Rock Hydrating Base and Top Coat
ILNP Cosmetics, Inc.
Funshine Smoothie Nail Polish
Sephora Collection
Color Hit Mini Nail Polish
Dear Sundays
L.04 Yellow Polish
OPI
Chrome Effects Nail Lacquer Top Coat
The Cherry Glazed Donut Nail
Bieber has opted for a bright red almond-shaped nail every now and then. She recently modeled the look in her campaign with Tiffany & Co. If you want to achieve a classic Old Hollywood-style red manicure like Bieber, start by filing your nails into a rounded almond shape with a high-quality file. Then, apply a few layers of a bright red nail lacquer until opaque, and finish with a high-shine top coat. And if you're looking for an easy way out, try a set of red press-on nails.
Hermès
Les Mains Hermès Nail File
Gucci
Vernis À Ongles Nail Polish
Suite Eleven
From Brooklyn With Love
Olive & June
CV Press-Ons
Color Club
Halographic Hues Nail Polish
Habit
Nail Polish in 60 Digital Dream
Essie Purples Nail Polish
Urban Outfitters
Iridescent Top Coat Nail Polish
When it comes to achieving a Hailey Bieber-worthy manicure, it's all about nail care. "It's really important to take vitamins to keep your nails healthy," says Ganzorigt. "Using cuticle oil regularly helps to keep your nails healthy as well." No hang nails or dry cuticles here!
Try taking a daily vitamin packed with biotin to grow and strengthen your nails. Apply cuticle cream and hand lotion daily to keep your nail beds moisturized and happy. Ganzorigt also recommends getting your nails done or doing them yourself every 10 to 14 days to avoid chipping and breakage.
Being Frenshe
Hand Serum in Lavender Cloud
Dior
Crème Abricot Nail Cream
Olive & June
Cuticle Serum
Augustinus Bader
The Hand Treatment
Sakara
Beauty Water Drops
If you're waiting on the edge of your seat wondering what the next big nail trend is, don't worry! Ganzorigt is already thinking about it. "Since people are preferring more minimalist nail looks, I'd assume some warm-toned colors or dark-toned chrome will be popular," she says. But of course, a glazed donut nail is a safe bet.
Advertisement – Continue Reading Below